Aga Khan emerges top school in Independence swimming gala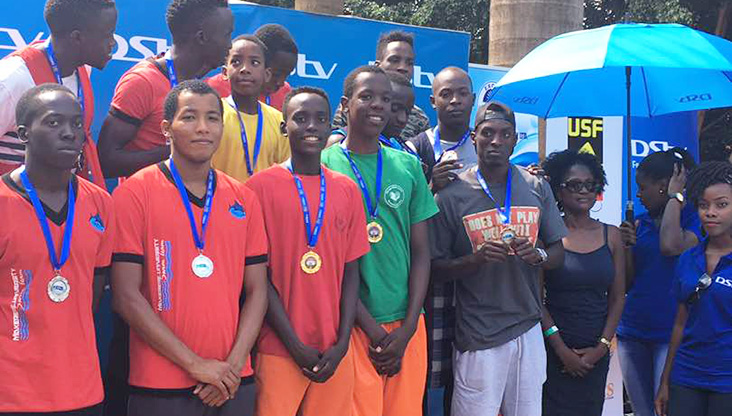 The Aga Khan School has emerged best in the National Independence Swimming Gala, sponsored by DStv Uganda and the Uganda Swimming Federation.
This two-day event hosted at Kampala International School Uganda (KISU), saw about 13 schools closely compete for the top position. The competitors took part in the different swim styles from the 400m relays, 50m breaststroke, 200-400 medley relay, 100m fly to 50m freestyle.
Addressing the media, MultiChoice Uganda Public Relations and Communications Manager, Tina Wamala said DStv Uganda had taken a keen interest in supporting children in sports.
"We believe in a generation of fully rounded children that don't only excel in academics but also participate in sports," Ms. Wamala said, adding: "Swimming has taken centre stage for DStv Uganda because it physically and mentally engages children and it is a fun game."
Ms. Wamala said DStv Uganda contributed Shs25 million to support the gala, and also thanked the parents and families of the participants for their support. "It has been great seeing them cheering on and the tremendous encouragement given," she noted.
The Secretary General Uganda Swimming Federation, Moses Mwase, while congratulating the winners, said: "We thank all the participants for taking part in the gala and professionally competing and encouraging each other, you have all made this event remarkable. We congratulate the winners for the excellent exhibition of talent at its best and also encourage those who didn't win, never to give up and look forward to the coming competitions."
#1: Overall Best School: Aga Khan School with 3,240 points
#2: Green Hill Academy with 2,155 points
#3: The British School of Kampala with 1,562 points
What's new
Aga Khan High School Celebrates IB Diploma Programme Graduation
15 June 2018 | SUCCESS STORY
On 25th May, 2018, the Aga Khan High School, International Section, held its annual International Baccalaureate Diploma Programme graduation ceremony at the Serena Hotel in Kampala.
[ Read ]
---
Students emerge Regional Winners in Global Cambridge Competition
05 June 2018 | SUCCESS STORY
Five student who shot a three-minute video to inspire their peers were rewarded for their efforts. Students of Aga Khan High School Kampala (AKHSK) emerged winners at the National and Regional levels (Sub-Sahara Africa) during the British Council 'Your World' global competition.
[ Read ]
---
The Royal Game
19 March 2018 | SUCCESS STORY
Throughout the history of chess, humanity has continually held a fascination with those rare individuals whose immense skill and talent at the game makes them deserving of competing against the best players in the world.
[ Read ]
---