A Maestro in the Making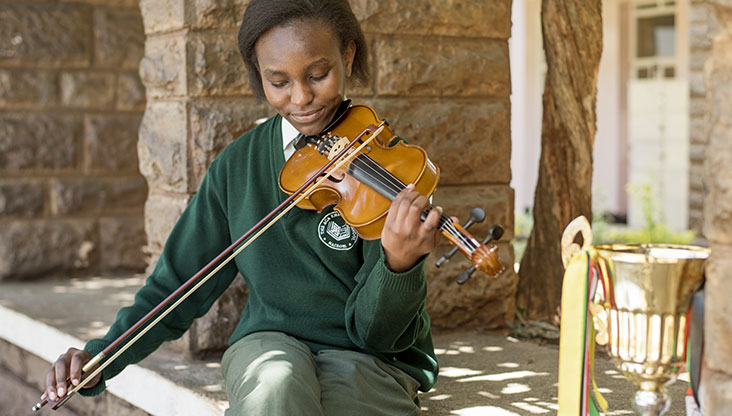 "Hard work and prayers never go unrewarded."
The girl who seems to be living this saying is Faith Lumire, a form 4 music student at the Aga Khan High School, Nairobi. With only six months of formal training, Faith managed to clinch the first place in the violin category of the 2018 National Kenya Music Festival, bagging the title of "National Champion" for herself.
Her success in the festival is nothing short of glorious. She received a whopping 88% marks in her very first attempt at the festival, resulting in her victory. The school believes that with this kind of passion and dedication backing her, Faith's success is inevitable.
The Aga Khan High School, Nairobi is known to follow a practical, student centered approach to teaching music in a friendly and encouraging environment. The teachers are supportive and create a conducive setting in which students can hone their musical potential and they did as much for Faith.
In addition to the support and inspiration extended by the school, Faith would often go over and beyond the regular efforts required. Teachers observed that in the six months of her training, Faith frequently skipped her breaks and lunch times to practice violin. While talent is something that can be nurtured over time, talent, paired with unbridled passion like this needs only the right environment to flourish unabated.
A Maestro in the Making
30 October 2018 | SUCCESS STORY
"Hard work and prayers never go unrewarded."
[ Read ]
---
SPOTLIGHT: Student meets President Kenyatta after being selected for PURES programme
01 September 2017 | SUCCESS STORY
A bright student from Aga Khan High School Nairobi (AKHS,N) was recently selected for The Pupils' Reward Scheme (PURES) programme. Dennis Gichuku, a Form Four student and Head Boy at AKHS,N, was invited to the State House for the PURES programme this year.
[ Read ]
---
Aga Khan High School, Nairobi (AKHS, N) Student Shines at the Kenya Music Festival
15 July 2017 | SUCCESS STORY
AKHS, N students were crowned national champions at the recent 91st Annual Kenya Music Festival, held in Kakamega County, Kenya from July 10 - 22, 2017.
[ Read ]
---