IN THE MEDIA: AKELC selected for International Nursery of the Year Award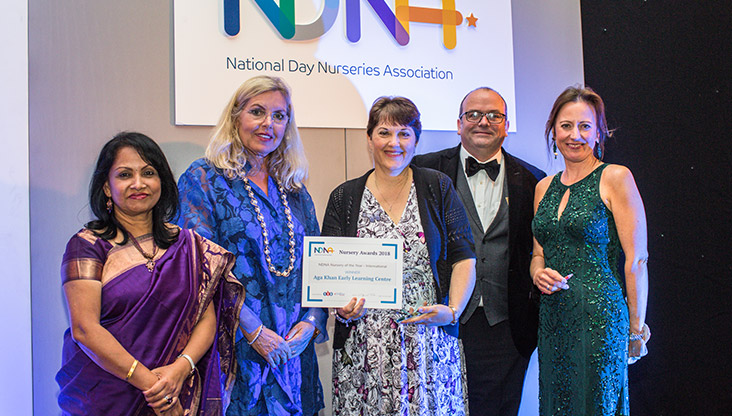 The Aga Khan Early Learning Centre is celebrating after it was announced they had become the winner for National Day Nurseries Association's International Nursery of the Year Award on 22 June 2018 in Coventry, England.
Kelli Allen, Head of Nursery and Preschool commented on the honour: "We are delighted to be selected for this award. The Aga Khan Early Learning Centre (AKELC) would like to thank the National Day Nurseries Association (NDNA), its sponsors, AKELC parents and staff, and all supporters who helped achieve this prestigious award. AKELC is committed to the development of the young child, and our vision is to be a leader in the Early Years by raising the standards for high-quality practices and professional development in the United Arab Emirates."
AKELC
is a high quality, purpose built, non-profit Nursery school that has been in operation since 2010 in the Oud Metha area. The bilingual (English/Arabic) Centre provides a British (EYFS) curriculum and welcomes children from all backgrounds and abilities. AKELC is also accredited through the NDNA e-Quality Counts programme and holds a Level 3 status (Highest Level – Exemplary).
NDNA Chief Executive, Purnima Tanuku OBE, said: "A huge well done to AKELC. This is a fantastic achievement for them. They should be very proud of their amazing, hard work in this sector."
National Day Nurseries Association
(NDNA) is an award winning national charity that provides support, information, advice and guidance to the childcare, early years and nursery sectors across the UK and internationally.
What's new
AKELC Wins Best Nursery Award in UAE
13 March 2019 | SUCCESS STORY
The Rajmahal Theatre, part of the Dubai Parks and Resorts, was buzzing with excitement on March 7, 2019, bringing together over 850 leading educators from 100 schools across the United Arab Emirates (UAE) for the Top School Awards.
[ Read ]
---
Best Nursery 2019 Award
28 January 2019
We are delighted to inform you that SchoolsCompared.com has reached out to us to inform us that the AKELC has been shortlisted for the 'Best Nursery 2019' award.
[ Read ]
---
AKELC Family Open Day & National Day Celebration
08 November 2018
AKELC is hosting its annual Family Open Day and National Day Celebration on Saturday, 24th November from 11:00 a.m. to 1:00 p.m. at the Centre in Oud Metha.
[ Read ]
---
---
---