Strengthening International Education for Global Citizens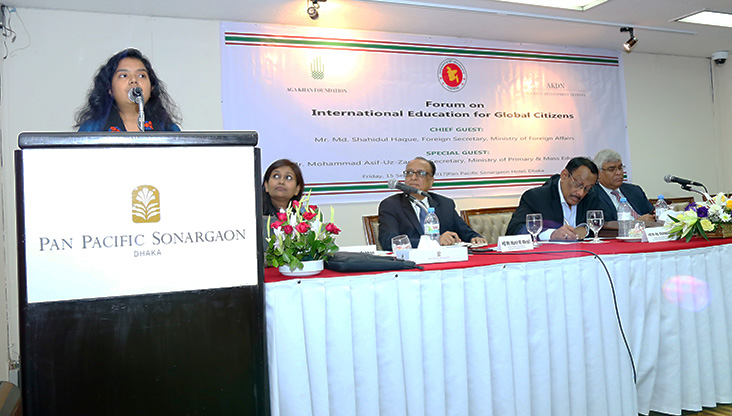 On Friday, September 15, 2017, two students students from Aga Khan School Dhakka (AKSD), Proma Ayesha Kibria and Dhruba Nil Ghosh, alongside teachers, Ms. Shemoul Hamid and Mr. Mahmudul Hasan, attended the International Education for Global Citizens forum.
The event was organized by the Aga Khan Development Network (AKDN) in collaboration with the Bangladesh Ministry of Education to bring together intellectual minds actively involved in this sector. The goal was to create solutions to strengthen education in Bangladesh, as well as discuss the technical aspects of our education sector.
Forum participants included government officials, promising young Bangladeshi entrepreneurs, social workers, as well as Mr. Munir M. Merali, AKDN Resident Representative, Mr. Mohammad Asif-Uz-Zaman, Secretary and Ministry of Mass Education, and Mr. MD Shahidul Haq, Foreign Secretary.
The sessions involved presentations, followed by question and answer periods on education and child development in Bangladesh, and an overview of the AKDN and its efforts to improve quality of international education. All forum speakers were divided into small groups to discuss practical methods to tackle the problems in the education system, and one representative from each group presented the ideas and concerns to the rest of the forum.
The value of collaboration became quite evident, and by the end of the forum, it was clear to all present that this mixed group of students, teachers, social workers, and honoured guests, not only share many of the same concerns, values, and educational goals, but are also passionately committed to the promotion of International Education for Global Citizens.
Photo: Aga Khan student, Proma Ayesha Kibria (Grade 12), giving a speech at the International Education for Global Citizens Forum.