A Celebration of Science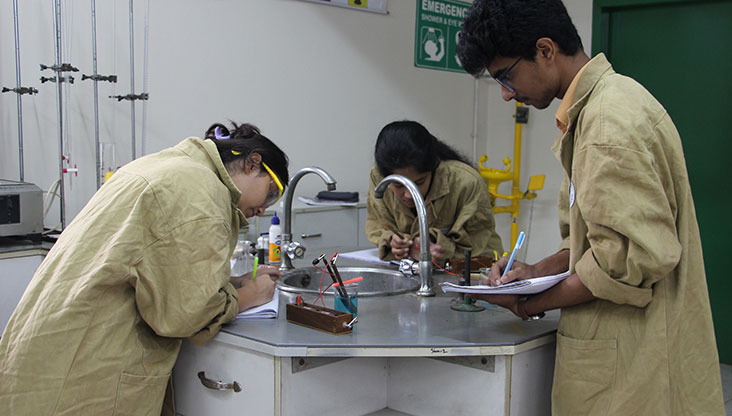 The Aga Khan School, Dhaka (AKS,D) presented Science Week followed by Science Fair from October 22 – October 26.
The week started off with a colourful inauguration. Mr. Craig Salmon, Principal, began the ceremony with encouraging words, followed by Ms. Fahmida Chowdhury, Head of Secondary School. During the ceremony, science teachers demonstrated various science experiments including the Elephant toothpaste, Purple Genie and Rocket Explosion experiments. This was an exciting start to the event.
During the course of the Science week, enthusiastic students from grade VI to grade XII participated in quiz competitions which challenged their knowledge of Physics, Chemistry and Biology. Meanwhile, students from Grade I - V worked on their own project focusing on the theme of "Science for Everyone".
The sharing of scientific experiments promoted curiosity among our students. Several prominent scientists of Bangladesh were invited as guest speakers and judges for both class sections. The speakers shared real-world examples of science in action. For example, one of the guest speakers demonstrated the concept of 3-D printing. He explained the versatility of a 3-D printer and how it can be used in different fields like architecture, medicine, fashion, education and many more. Students were even able to see 3D models and prosthetics. The students were very inquisitive and all the guest speakers' speeches were truly inspirational and motivational.
The week ended with the Science Fair. On that day, teachers and students decorated the school and classrooms with posters and science models, such as the Solar panel, Organic make-up, Gel electrophoresis, How Smell Works, Electroplating and many more projects. The judges were extremely impressed with the effort of the students, their understanding of concepts, and clarity and confidence that they demonstrated during their presentations.
One judge for the Grade I – V section, Dr. Iqbal Anwar, said: "It was an amazing programme. I was overwhelmed with all the great projects prepared and presented by the young inventors. Salute all those who were behind all these innovative and creative projects! All the best for the future endeavours of the students, their teachers and parents!"
Students were very enthusiastic as they presented their work in front of parents and judges and answered thought-provoking questions based on their projects. It was the perfect end to a fruitful week.