IN THE MEDIA: Learners from Aga Khan School Dhaka achieve top results in Outstanding Cambridge Learner Awards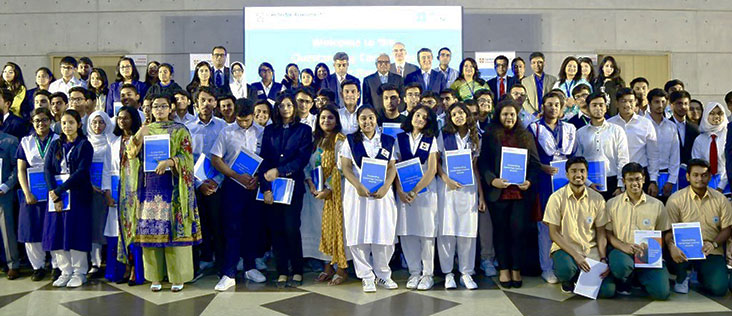 Nineteen learners from Aga Khan School, Dhaka have received prestigious awards from Cambridge Assessment International Education to acknowledge their outstanding performance in the 2017/18 Cambridge examination series.
The Outstanding Cambridge Learner Awards programme celebrates the success of learners taking Cambridge examinations in over 40 countries around the world. Cambridge places learners at the centre of their international education programmes and qualifications which are inspired by the best in educational thinking.
The following learners at Aga Khan School, Dhaka received Top in the World / Country / High Achievement awards:
Zuhaeer Islam – Mathematics (AS Level)
Tabib Wasit Rahman – Mathematics (AS Level)
Rafi Ahmed - Mathematics (AS Level)
Nusaiba Hossain - Mathematics (AS Level)
Dhruba Nil Ghosh - Mathematics (AS Level)
Nanziba Tazriar Rahman – Mathematics (Without Coursework) – (Cambridge IGCSE)
Rafsan Rahman Raayan – Additional Mathematics (Cambridge IGCSE)
Nanziba Tazriar Rahman – Accounting (Cambridge IGCSE)
Farzin Ahmed – Business Studies (Cambridge IGCSE)
Rafsan Rahman Raayan – Chemistry (Cambridge IGCSE)
Samin Sharar Nafi – First Language English (Oral Endorsement) - (Cambridge IGCSE)
Abiaz Hossain – Information and Communication Technology - (Cambridge IGCSE)
Rafsan Rahman Raayan – Physics (Cambridge IGCSE)
Dhruba Nil Ghosh – Chemistry (AS Level)
A M M Mutasim Moyen – Physics (AS Level)
Md Ajmain Mahtab – Computer Science (Cambridge IGCSE)
Rafsan Rahman Raayan – Environmental Management (Cambridge IGCSE)
Samiha Raida - Environmental Management (AS Level)
Naveed Bin Sattar – Information Technology (AS Level)
The Principal of Aga Khan School, Dhaka, Craig Salmon, said that the awards recognized the talent, dedication and commitment of both learners and staff. He said, "The school community sets extremely high expectations for itself and continues to inspire all students to be the best they can be in whatever field of endeavor they choose. Whilst we celebrate academic success we also value the development of fine young leaders and global citizens who are strong of heart as well as mind."
Shahin Reza, Country Manager, Cambridge Assessment International Education, Bangladesh said: "It is extremely rewarding to congratulate Cambridge learners and teachers at Aga Khan School, Dhaka who have worked so hard to achieve tremendous success in Cambridge IGCSE and AS level examinations. The results are a reflection of the enormous talent in Bangladesh, not only amongst learners but also within the teaching profession. Learners from Aga Khan School, Dhaka have a bright future ahead of them, and I wish them every success in their future."