AIFT- 2019 - The Aga Khan School, Dhaka Inter School Football Tournament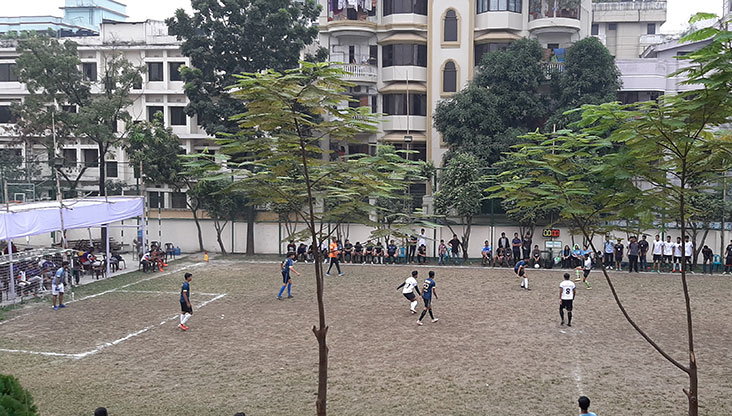 AIFT, the most awaited sports event of the year, was held from the 7th to 9th of November, 2019.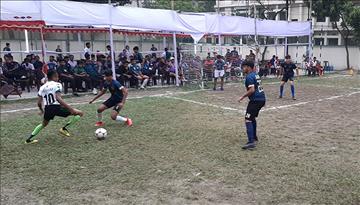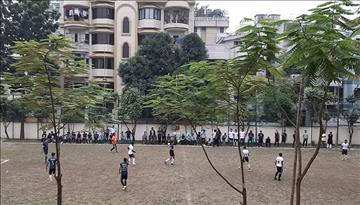 With an organizing team of 19 students and 3 sports teachers, the school put forth a successful event for the rising stars. Continuing with its holistic approach towards education, by hosting this inter school tournament, AKS, D provided the students with a friendly yet competitive platform to showcase their athletic prowess. The event was held to recognize and encourage talented young footballers from some of the biggest schools in Dhaka.
Around 12 schools participated in total, including AKS,D. Teams were divided as per their age groups into one of four categories: Boys Under-14, Boys Under-16, Boys Under-19 & Girls Under-19. A total of 38 teams played 58 matches altogether, as they battled through the group stages, quarter finals and the semifinals. Eventually only the best teams remained in the race for the trophy.
The entire school was adorned with decorations to greet and engage the crowd and participating teams. Rows of colorful flags representing the school colors and logos of each participating school were hung across the walkway. Banners and posters of all sizes draped the school walls and railings. Boards were covered beautifully and pictures were hung to commemorate the school's success in previous tournaments.
All of the AKS,D spectators watched with bated breath as the school teams brought forth their best game. The crowd roared in response to goals and cheered the names of the players. It was truly a sight to see! The teachers encouraged the students on too, as they fought hard to bring the title home.
Although The Aga Khan School, Dhaka did not reign Champions, the Girls Under-19 category and Boys Under-19 category both achieved Runners Up positions. Both the Boys Under-14 teams and Under-16 teams played excellently and had reached the semifinals.
As for individual awards, the students of AKS earned quite a few titles for themselves! Mikdad Rahman and Tahsin Aziz earned the prizes for Best Goal Keeper and Best Player, respectively, in the Boys Under-19 category. Maisha Tahsin, Shahara Huda and Tasnima Proma earned the titles of Best Defender, Best Midfielder and Best Player, respectively, in the Girls Under-19 category. While Md. Rakayet Islam won the Best Striker award in the Boys Under-14 category.
Overall, the execution of the event was praised as the organizing committee ensured that no stone was left unturned to accommodate the visitors. Furthermore, the relentless effort and support of the leadership team, faculty and other staff members, helped make the event a success.