AKS,D MasterChef 2019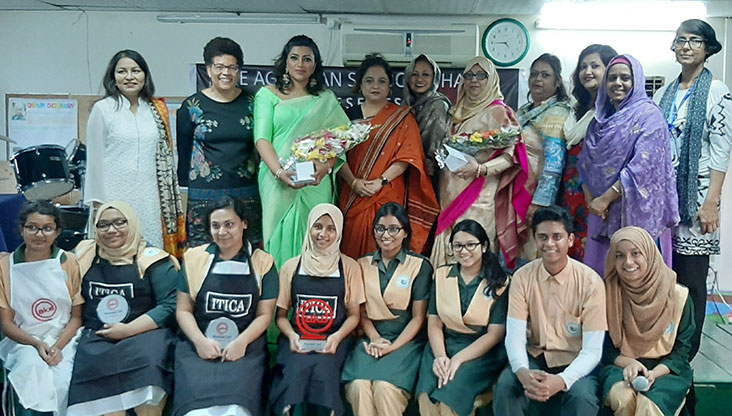 The Aga Khan School, Dhaka Intra School MasterChef.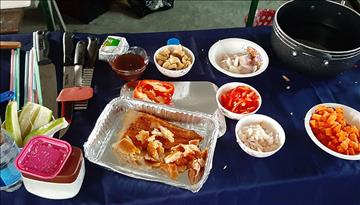 The AKS,D MasterChef provides a stage for the students to display their culinary talents and take them to levels beyond their own kitchen. The event signifies cooking as not only an everyday essential but also a growing industry with tremendous scope in the modern world.
AKS MasterChef 2019 was successfully held from the 23rd of September, 2019 to the 16th of October, 2019 with the students of grade 6 to 12 participating in 5 challenging rounds. The organizing team had Fareezeh Shehleen Islam, Nahreen Nabiha Mahmud, Sumaiya Rashid, and Zayan Zaman of grade 11.
The judging panel for the first 4 rounds of the competition featured Ms. Shamima Shahnaz, Ms. Usha Kasana, Ms. Sabreena Jui, Ms. Rahatun Nessa, Ms. Fatema Aftabi, Ms Tasleema Begum, Ms. Rokhsana Afroz, Ms. Nafia Akhter, and Ms. Umana Khan.
A total of 21 culturally diverse and flavorful dishes were submitted in the audition round. Participants were instructed to prepare from home their own comfort food for preliminary judgement of their cooking and presenting skills. Of the 21 dishes, thirteen stood out, sending their makers to Round 2.
Round 2 tested the contestants' technique and knowledge in a skills test. Participants were instructed to cut various vegetables as per specific chopping techniques so that their basic equipment handling expertise could be judged. Only the eight most technically advanced cooks were able to move on to Round 3.
Round 3 put the contestants in a blind tasting and pressure test. This round required to participants to prepare two eggs using methods that were previously unknown in order to test their on-field culinary skills. A tasting round further required them to identify ingredients used in the preparation of meals. Six contestants proved themselves capable of handling the pressure and moved on to the semi-finals.
The semi-finals featured a dessert and drinks making challenge which saw the contestants getting creative with their ingredients and making delicious treats. Participants were required to cook using only pre-assigned ingredients from the pantry. Four talented cooks were recognized and selected to compete in the final round.
The grand finale involved a mystery box challenge with the secret ingredients being fish and honey. It was a two-hours long round where participants were given the task of preparing an appetizer and main dish, along with a fresh juice using their mystery box items. Chief guest judges for the finals included Ms. Nazma Huda (President, Women's Culinary Association of Bangladesh) and Ms. Tahmeena Sultana Mou (Actress), alongside Dr. Dale Taylor and Ms. Fahmida Chowdhury. After an intense cook-off between four of AKS' best chef's, the judges settled upon the winner.
Winner: Tahiyat Ahsan (Grade 8)
1st Runner Up: Nabiha Haider (Grade 10)
2nd Runner Up: Urfana Ibnat (Grade 10)
3rd Runner Up: Sunehra Haque Roza (Grade 8)