Dhaka Inter School Volleyball Tournament (AIVT-2020) showcases talent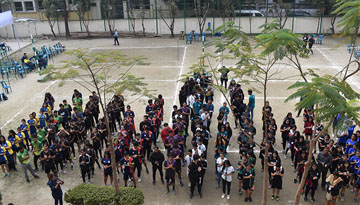 The highly anticipated interschool volleyball tournament returned to the Aga Khan School, Dhaka (AKS,D) campus for 2020.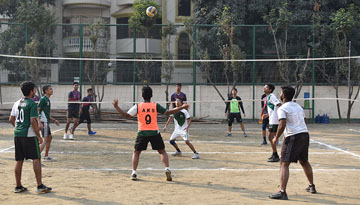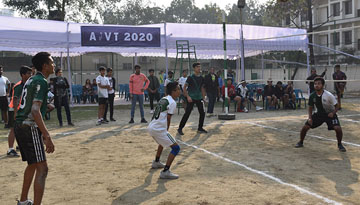 The competition, held over the 7th and 8th of February, celebrated the talent and skills of the young volleyball players who enthusiastically took part.
In line with the school's vision and mission, AKS,D aspires to give students a stage on which to exhibit the skills they have been nurturing outside the classroom as well as within it. The interschool volley ball tournament was a celebration of this goal.
Twelve schools participated, with teams divided into two categories: Boys Under-19 and Girls Under-19. The young volleyball players took part in friendly competitions battling through the group stages, quarter finals and the semifinals in the race for the trophy.
Hardworking and excited students decorated the school to greet spectators and encourage the participating teams. Flags representing the colors and logos of each participating school were hung across the walkway. Banners and posters of all sizes draped the school walls and railings and beautifully covered picture boards commemorated the school's success in previous tournaments.
The result… the AKS,D teams were inspired to play their best games to date! The coordination between the coaches, captains and other team players resulted in both teams delivering phenomenal performances.
The AKS,D Girls Under-19 team, qualified for the finals and, in a grueling match, scored the last point and secured the title.
The hard work and determination of the boy's team saw them reach the semi-finals and play their finest game.
To recognize and encourage the rising stars of the tournament, individual awards were given. In the Boys Category, Md Labib Talibuddin and Talha Nafim Islam earned the titles of "Best Setter" and "Best Spiker" respectively. In the Girls Category, Maisha Tahsin, Raanya Siddiqui and Shehed Shakir earned recognition as "Best Blocker", "Best Server" and "Best Defensive Player" respectively.
It wasn't just the players who received accolades - the organizing committee was praised for ensuring the smooth running of 'a remarkable tournament' and the support and guidance of the leadership team, faculty and staff members was recognised as important contributor to the success of the event.