The Aga Khan School, Dhaka Approach
Developing critical thinking and analysis is at the core of The Aga Khan School, Dhaka's mission. The School encourages students to respect and appreciate other people's cultures, social structures, values and beliefs. Taken together, these objectives are designed to help equip children with the tools they will need to make their way in school, society and an increasingly interdependent world.
School History
Founded in 1988, The Aga Khan School, Dhaka is an institution of the Aga Khan Education Service, Bangladesh. The Aga Khan School, Dhaka offers a caring and nurturing educational environment which provides each student with opportunities to develop artistically, emotionally, intellectually, morally, physically and socially to his or her fullest potential.
The Aga Khan Education Services (AKES) has a long tradition of leadership in educational development. The foundations of the present system were laid by Sir Sultan Mahomed Shah, Aga Khan III, under whose guidance over 200 schools were established during the first half of the 20th century, the first of them in 1905 in Zanzibar, Gwadar in Pakistan and Mundra in India. Since the creation of Aga Khan Education Service companies in the 1970s, the schools have been centrally administered and managed.
AKES currently operates more than 200 schools and several educational programmes that provide quality pre-school, primary, secondary and higher secondary education services to more than 75,000 students in Pakistan, India, Bangladesh, Kenya, Uganda, Tanzania, Kyrgyz Republic, Tajikistan, United Arab Emirates and Madagascar. Schools will also be developed in Afghanistan and the Democratic Republic of Congo.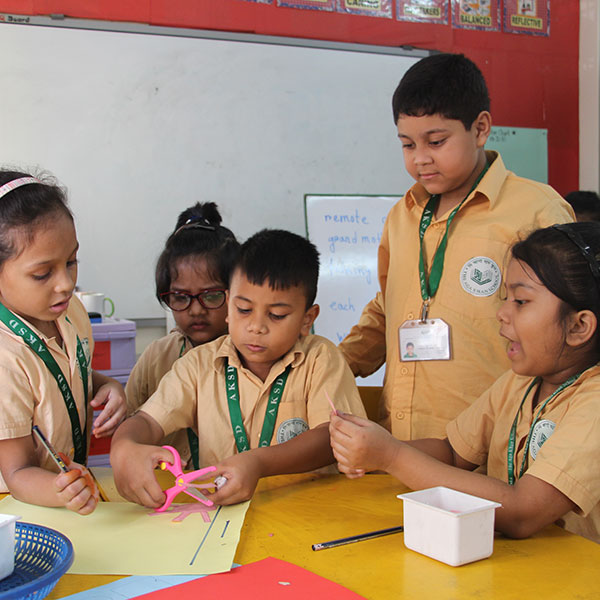 English Language Requirement
As an English-medium school, all instruction is in English except for the national language, which is taught in Bengali. The students are fluent in oral and written English and Bengali.
Partnerships
The School has a partnership with the Aga Khan University-Institute of Educational Development, Karachi, Pakistan and is actively involved in the professional development of staff. Such academic partnerships allow the School to focus on staff development and training.