Celebrating Culture and Pluralism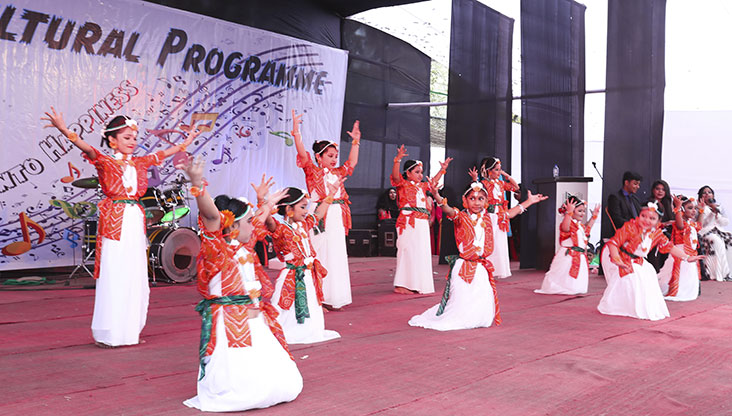 The entire Aga Khan School Dhaka community recently came together to celebrate the rich colors and diversity of cultures from around the world through music, song, recitation, and dance.
Set in the school grounds of the Aga Khan School Dhaka secondary campus, more than 1500 students, staff, and parents enjoyed an afternoon of entertainment. The festivities commemorated the first day of Bangladesh Spring known as Pohela Falgun, which inspired many of our performers from the youngest playgroup students, through to the grade 12 graduating class. The performances reflected cultures from around the world and reminded us of the pluralistic society we live in. The huge audience demonstrated their delight and appreciation for the hard work of the students and staff in preparing such an impressive celebration of talent and diversity.
The Aga Khan School, Dhaka is one of the leading English-medium schools in Dhaka offering the International Baccalaureate (IB), Primary Years Programme (PYP) and Diploma Program (DP) as well as the Cambridge International Examinations (CIE) IGCSE and A Levels program.

What's new
Awards for being the very best!
11 February 2020 | SUCCESS STORY
The best in Bangladesh! Nine talented and hardworking students from the Aga Khan School Dhaka were recognised by the world renowned Cambridge Assessment International Education organization with highly prestigious Outstanding Cambridge Awards.
[ Read ]
---
AIFT- 2019 - The Aga Khan School, Dhaka Inter School Football Tournament
20 December 2019
AIFT, the most awaited sports event of the year, was held from the 7th to 9th of November, 2019.
[ Read ]
---
AIDC-2019 - The Aga Khan School, Dhaka Intra School Dance Competition
20 December 2019
This year, AKS,D witnessed its very first intra school dance competition from the 30th of September to the 15th of October.
[ Read ]
---
---
The Aga Khan School, Dhaka, is authorized to implement the International Baccalaureate (IB), Primary Years Programme (PYP) and Diploma Program (DP) as well as the Cambridge International Examinations (CIE) IGCSE and A Levels program