One person's service to education: A veteran teacher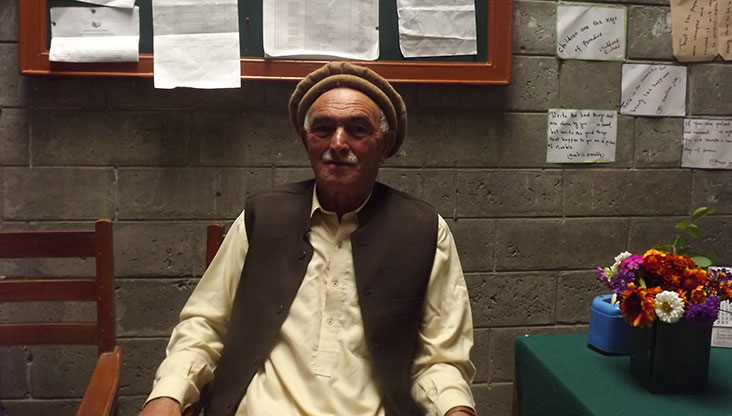 Forty-three years are not enough to make some people tired of teaching. One such person is Martabah Shah, who retired from Diamond Jubilee (DJ) Middle School, Gitch (Gilgit-Baltistan) after teaching for 43 years. He says with a smile, "I could still keep going."
Shah was the first in his family to attend school, a feature common to many teachers from his generation - a generation which was the first to start benefitting from the establishment of schools.
While Shah's hearing has suffered with age, his memory remains crystal clear as he speaks of his experiences and how much things have changed. "We used to go to school barefoot, be it hot or cold," he says. "We didn't have any shoes. It was sheer poverty all around."
Shah began teaching at the DJ Middle School, Gitch after passing the 9th grade. "I sat for my matriculation [secondary school] examination while still teaching." Reflecting on why he did not continue his studies beyond Grade 10, Shah says that if he had left to pursue higher education, his students would have been without a teacher. The man whose students are now doctors, engineers and entrepreneurs, did not fulfil his own dream of studying beyond secondary school.
As schools were few when Shah started teaching, many students had to travel long distances every day to get to class. Some of Shah's students had to cross the river to get to school, and in the absence of a bridge, they would use a "desi kishti, a basket made out of rough planks nailed together, which would be tied to a rope tethered to poles on opposite ends of the river. You would sit in this basket and be slowly zip-lined across."
Conditions improved with time, and especially after the 1970s, by which point Shah had been teaching for about 15 years. "That was when more teachers came on board, and girls started attending school in large numbers."

The man who has taught multiple generations of the same families, and whose students therefore fondly refer to him as "a teachers' teacher," says with a twinkle in his eye, "Even now, when I see a book, I just want to teach. That passion hasn't died in me, far from it."