SPOTLIGHT: Teacher at Diamond Jubilee High School wins NDTV Education Award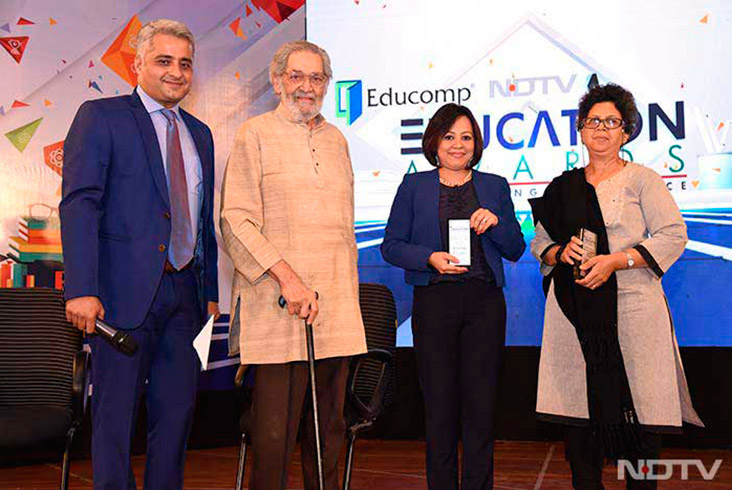 Mumbai, India - Ms. Liesel Krishnan, an English teacher at the Diamond Jubilee High School in Mumbai, has been awarded the "Excellence in English Teaching" prize by NDTV. Ms. Krishnan was the winner of the Regional award and a finalist for the National award in the same category.
The Education Awards, which are a joint effort of NDTV and Educomp, represents the "culmination of a comprehensive assessment and performance review of various key stakeholders by a jury comprised of eminent personalities known for their contribution to education", according to the NDTV website. Winners of the Award include many of India's top schools, including the Doon School and the Dhirubhai Ambani International School.
Ms. Krishnan has been teaching at the Diamond Jubilee High School for over 27 years, where many of the students are the first children in their family to attend school. Ms. Krishnan has been a part of the Aga Khan Education Services (AKES) system since 1990.
The Diamond Jubilee High School is one of eight schools operated in India by the AKES. The Diamond Jubilee High School Mumbai, where Ms. Krishnan works, was founded in 1947. Originally a vernacular medium all boys state curriculum school, it has since become one of the city's top English medium co-educational national curriculum (ICSE) schools. The School follows an innovative child-centric curriculum that is taught by teachers who have been exposed to international best practices in teaching and undergone a continuous process of professional development offered by AKES.
For example, AKES supported Ms. Krishnan to travel to Phillips Academy in Massachusetts, USA – one of America's top prep schools -- where she attended the Andover-Bread Loaf trainings and conferences. Later she would incorporate these vital lessons as an English teacher working with mainly first-generation learners. Ms. Krishnan started the "Andover Bread Loaf" Creative Writing Workshop in 2015 in Mumbai, where students and teachers across the network were involved in a five-day writing workshop called "Writing for a Better World".
Her commitment to students – through her teaching, coaching inter-school volleyball, script-writing and directing plays, overseeing the school magazine – is matched by her commitment to other teachers, playing a critical role in the Cambridge Language program for Teachers.
For more information, please contact:
Aga Khan Education Service, India

Telephone: +91 22 6613 9700
The Aga Khan Education Services (AKES)
Currently operating more than 200 schools and educational programmes, AKES provides quality pre-school, primary and secondary education services to students in East Africa, South and Central Asia and the Middle East. The foundations of the present system were laid by Sir Sultan Mahomed Shah Aga Khan, III, who established over 200 schools during the first half of the 20th century, the first in 1905 in Mundra and Gwadar in South Asia, and in Zanzibar in East Africa. Today, AKES schools and programmes benefit over 80,000 students.
As part of the Aga Khan Development Network, AKES seeks to ensure that children and young people are equipped with the knowledge, skills, attitudes and values to help them interact effectively with their world and be contributing members of a pluralist society. AKDN focuses in five areas: Early childhood development; Primary and Secondary schools; Higher education; and Continuing Education. For more information, please see http://www.akdn.org/what-we-do/education.