SPOTLIGHT: AKHSS, Karachi Students compete at Intel ISEF Science Fair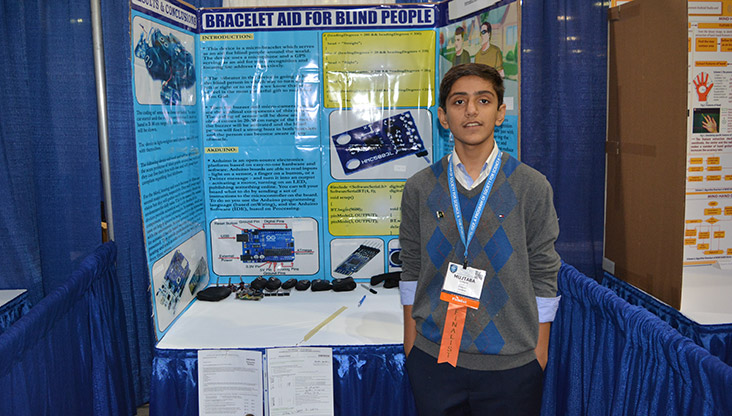 For the fourth year in a row, students from Aga Khan Higher Secondary School, Karachi (AKHSS) participated at the Intel International Science and Engineering Fair (Intel ISEF) in Los Angeles, USA from May 14 – 19, 2017.
First year student, Mujtaba Sajjad Kamani and second year student, Haseeb Ahmed Khawaja, won the 1st and 2nd positions at the Intel National Science Fair in Pakistan, qualifying them for a place at the Intel ISEF. Intel ISEF is the world's largest international pre-college science competition, where students compete for an average of $4 million in prizes.
Both Haseeb and Mujtaba had a memorable experience in Los Angeles gaining exposure as they competed alongside 1,800 students from over 75 countries. Mujtaba's project titled 'Bracelet Aid for Blind People' is a bracelet that a visually impaired person can use to locate an address in a GPS through voice command. The aim of this project is to decrease dependency of visually impaired individuals. Haseeb's project titled 'A Roar for Energy (Musical Torch)' aims to generate energy at a low cost. Haseeb and Mujtaba were excited about the interest shown in their projects by the judges, and want to continue with research and innovation after graduating from higher secondary school. This competition further reinforced Haseeb's ambition to pursue electrical engineering and Mujtaba's ambition to pursue computer engineering.
Founded in 1995, AKHSS, Karachi strives to provide quality education to its students. It is an institution with outstanding academic, extracurricular and sports programmes, striving to create a harmonious balance for students. AKHSS, Karachi offers Pre-Medical, Pre-Engineering, Science General and Commerce streams in HSSC.