625 Students participate in the Diamond Jubilee High School Annual Sports Day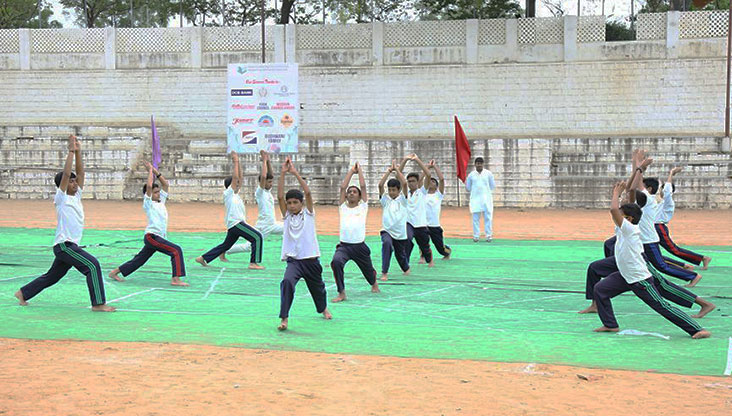 It was a chilly December morning in Hyderabad and the air at Red Hills GHMC Playground, was abuzz excitement and playfulness.
It was the biggest annual sporting event of the Diamond Jubilee High School, and the playground was decorated with a colourful canopy for the parents and chief guests to watch the games at the Annual Sports Day.
The day started with the arrival of the Chief Guest Mr Zaheeruddin Ali Khan, Managing Editor, The Siaasat Daily, Hyderabad and was accompanied by the Guest of Honour, Mr Nooruddin Dhamani, Director, Aga Khan Education Service, India and Convener of the school.
A host of events were planned for the sports day. The opening ceremony saw the lighting of the sports torch by the Chief Guest, followed by a flag hoisting, a march past by the four school houses and the oath taking ceremony. The students performed activities like the Chinese Fan Drill, Butterfly Drill, Smiley Face Drill, Mass Drill, Yoga, Dance and other cultural activities. Almost 675 students from the school participated in the Annual Sports Day.
In his keynote address, the Chief Guest emphasized the importance of sports in each child's life. He said that while on the surface it looks like sports training only makes children physically strong, but on looking deeper, it is beyond simply physical strength and flexibility. True sportsmanship introduces children to virtues such as fairness, discipline, courage, and patience. The Chief Guest Mr Zaheeruddin Ali Khan also applauded Principal Dr Sujatha Gade for her contribution in the field of education and congratulated her on winning the Best Teacher Award from the Rotary Club of Hyderabad.
This was followed by the Annual Report by the Principal, Dr. Sujatha Gade where parents were informed about the achievements of the school and children. In her speech, Gade thanked the teachers and staff members for the excellent academic results achieved during the last two years and motivated them to achieve the same 100% results in the upcoming academic years to come. She expressed gratitude to parents for always supporting her at school, as without their help these achievements would not be possible.
The Annual Sports day ended with a march-past and the singing of the National anthem. Congratulations to all students, teachers and parents!