Aga Khan High School, Kampala National Winner of the "Your World Competition"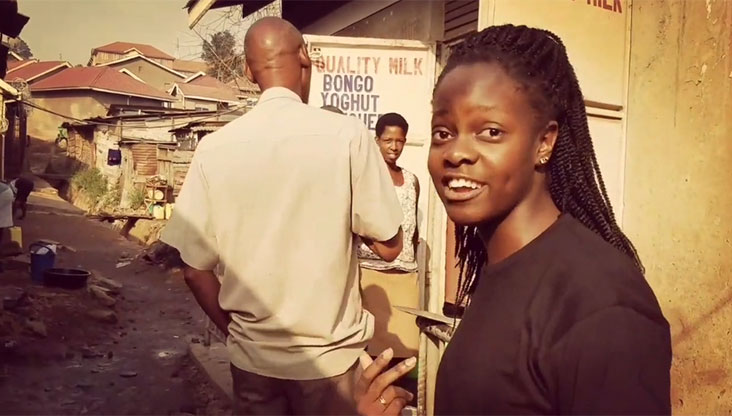 The Aga Khan High School, Kampala once again emerged triumphant as the overall national winner of the British Council, East Africa Arts Programme "Your World Competition" (2018/2019), for their video 'Healthy Bodies, Healthy Minds'.
The competition, gave four enterprising and socially conscious Year 11 students from the school an opportunity to shine a light on a global, yet often overlooked, problem that impacts millions of people – the link between health bodies and healthy minds.
Faryal Miru, Leila Kisubi, Suubi Byansi and Farhiya Hassan who produced on the winning video, tell their story:
We worked with residents of Kakajjo Slums, a low socio-economic community located in the heart of Kampala, Uganda. It is evident that the world is ignoring the problems arising from food deficiency and lack of support for mental health issues prevalent in this slum. We discovered that Kakajjo residents cook food with re-used oil and filthy water compromising overall food quality. This, coupled with the lack of education and a balanced diet, culminates in malnutrition and poor sanitation, and severely impacts quality of life. Ironically, the residents of Kakajjo consider this normal. Poverty rules and the lack of attention from the government and non- governmental organizations has exacerbated crime consequently posing a threat to the surrounding environment and Kampala city as a whole.
"I only eat one meal a day because I have a lot more than food on my plate, I have fees to pay, rent and everyday expenses to think about", says Bosco a local denizen selling chapatti on the dirty filthy streets of Kakajjo slum. His plight gave us an insight of what life is really like in the favela and helped us realise these circumstances do not only apply to Bosco.
We took the initiative to do what we could in order to make a difference by aiding the Kakajjo residents with some of the equipment they need to begin their journey to a healthy lifestyle. We donated stationary to foster creativity in young minds, maize flour with the aim of providing energy for body cells, anti-bacterial soap to improve sanitation and a football to encourage physical activity.
It wasn't all plain sailing. Challenges such as the language barrier and the residents' unwillingness to share their stories hindered our quest to acquire more information on people's backgrounds. However we overcame these challenges by getting some help from a well-known native speaker who allowed the Kakajjo residents to feel more comfortable talking to us about their life experiences.
Our main goal was to spread awareness across the globe of the link between physical and mental health. It is our hope to build a serene and ideal environment for the next generations by maintaining cerebral and somatic wellbeing. The project helped us to fully understand what needs to be accomplished in order to attain this long term goal of building a healthy body and a healthy mind. With the help of the teachers and the school administration, we accomplished our main objective; spreading awareness starting from our school, to the community and world at large through a 3 minute video.
In hindsight, we are all too aware that our simple mission of creating awareness was just the start, and a much bigger effort is required to provide sustainable solutions to enable the residents of Kakajjo slum to achieve better, healthier bodies and healthy minds.
Written By: Faryal Miru, Leila Kisubi, Suubi Byansi and Farhiya Hassan Y11