Independence Day – celebrating 'freedom' virtually across the Aga Khan Network Schools in India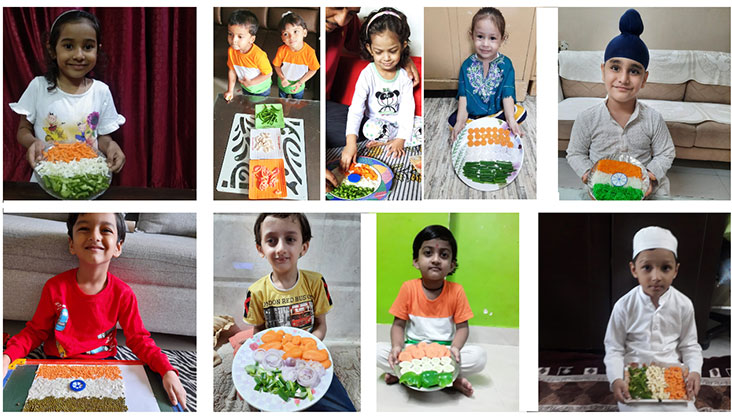 "For to be free is not merely to cast off one's chains, but to live in a way that respects and enhances the freedom of others." Nelson Mandela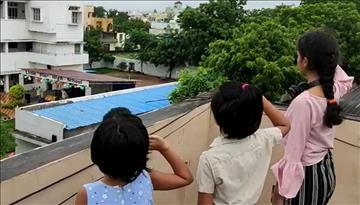 On India's 74th Independence Day, the Aga Khan Education Service, India, schools hosted a celebration with five members of staff at each school campus, in line with government regulations. The staff members hoisted the country flag and sang the national anthem. This event was recorded and shared with parents, students and school stakeholders to allow them to participate and experience a sense of community and pride.
Prior to the flag hoisting ceremony, schools held events to rekindle patriotism as an ode to the spirit of a free India. Events included poster making, folk dancing, singing songs dedicated to our nation's heroes, creating decorations in the tri-colour and fancy dress as a 'Covid-19 warrior'.
At the Little Star High School, Adilabad, students gathered on house terraces and paid their respects to the tri-colour as it was being hoisted in the school campus. They watched and fondly reminisced about previous in-school celebrations. Even an early morning start did not deter them from participating. Their deep sense of belonging towards their school propelled them to be a part of the event in any way possible, even if this meant leaning over a terrace wall and watching in delight.
The Aga Khan School, Chitravad, celebrated the spirit of the day by honouring local healthcare workers within Chitravad Grampachayat. Each healthcare worker was given a kit consisting of a face mask, a pair of gloves, a bottle of sanitiser and a shawl. The school also circulated a unique, indigenous national anthem video within the local community to spread the message about national unity and pride.
In the network's Pre-Primary Schools, whilst at home, students made tri-colour salads, wore fancy dress honouring healthcare workers, created artwork, as well as coloured in the national flag.
The Diamond Jubilee High School, Mumbai, commemorated this day with a virtual Investiture Ceremony where the new Student Council was sworn-in. Each student took a pledge to lead the student community with commitment, confidence and competence. Ms Nutan Iyer, Principal, said, "Independence Day is celebrated to commemorate the freedom struggle of our country, but with freedom comes responsibility that each of us must abide by...This Independence Day was the perfect culmination of this sentiment, where our student leaders took their oath of responsibility at the Investiture Ceremony".
This Independence Day had citizens adapting to a new world order with freedoms redefined. As for our schools, the echoes of "When is school starting?" grows louder and stronger, as students and parents wait eagerly for school to physically commence. The physical reopening of schools will be a commencement unlike any other. This coming together as a collective will remind us of the force of humanity and the efforts of many to aid our safe return, and the value of the 'freedom to go to school'. Hopefully, this will cultivate in each one of us the resolve to co-create a purposeful existence with the freedom we have, for ourselves and those around us.


Photos (top to bottom):
- Tri-colour salads made by pre-primary students of Diamond Jubilee High School (ICSE), Mumbai
- Students of Little Star High School, Adilabad, participate in the celebrations from the roof top of their home