Head Teacher at Aga Khan Preschool, Botad shares her journey of awakening the digital learner within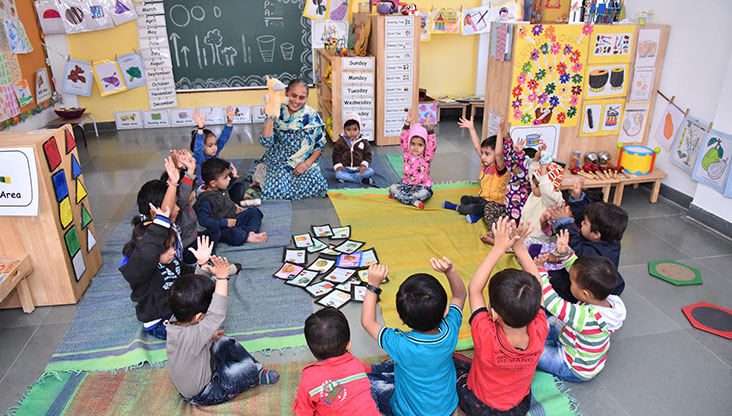 In keeping with AKDN's spirit of lifelong learning, Mrs. Amita Mithani, Head Teacher at the Aga Khan Preschool, Botad, has learned to use technology at the age of 57. She has transcended the physical barriers and reached out to every child under her care, despite the challenging circumstances schools all over the world have faced in 2020.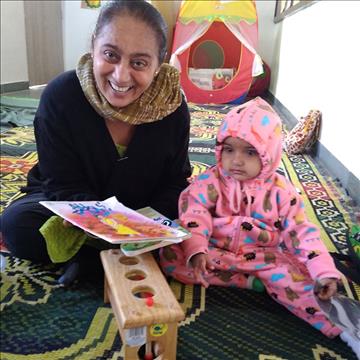 During the pandemic, teachers in remote regions adopted a style of teaching completely unfamiliar to them. Aga Khan Education Service, India (AKESI), faced uncharted territory and, along with its teachers, devised a plan to ensure education continuity for its students across different regions of the country.
Mrs. Mithani was determined to befriend the World Wide Web despite feeling unprepared for the challenge that lay ahead. Her 30 years of service did not offer any solace in the situation that gradually unfolded. She increasingly felt the need to improve her technology know-how. Applications like Zoom unnerved her, as it became a staple in education jargon.
Mrs. Mithani recalled, "When I was asked to download the Zoom app, I had many questions about remote learning. My daughter-in-law helped me download the app. Witnessing this was my first step towards technological literacy and my digital journey." She added, "There are numerous challenges with remote learning. These challenges also serve as a gateway for learning; when you believe in your ability to learn, everything becomes possible."
Mrs. Mithani now feels that Microsoft Outlook, Zoom, and other applications have become less daunting and more of a second nature for her. She actively uses these applications to enhance the quality of her lessons. She believes the move to technology has been a blessing in disguise as it has challenged her to adopt a style of teaching that she had never dreamt of, and has helped her to develop important skills and knowledge necessary in the 21st century.
This experience reminded her of a quote by His Highness the Aga Khan in 2011: "The most important thing we can learn…in a world of perpetual change - is the ability to go on learning."
Photos (top to bottom):
-
Students at the Aga Khan Preschool, Botad (photo taken prior to COVID-19)
-
Mrs. Mithani using her laptop to plan lesson for her students
-
Mrs. Mithani with one of her young students (photo taken prior to COVID-19)