DJHS, Mumbai does it again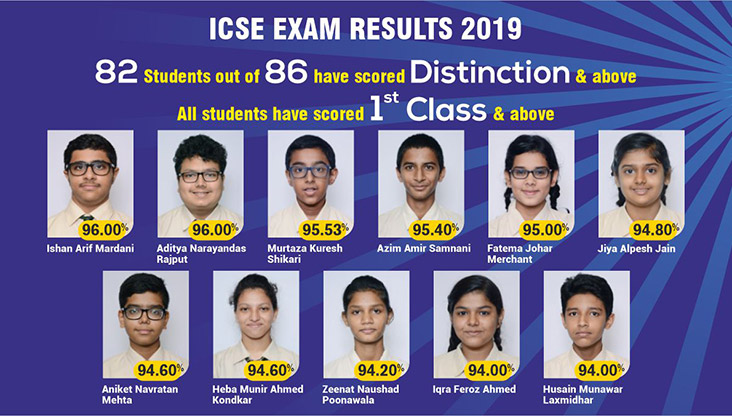 For the 6th time in a row, Diamond Jubilee High School (ICSE), Mumbai (DJHSM) has achieved 100% in the ICSE results.
The efforts put in by the students and teachers throughout the year have paid off as all students appearing for the ICSE examination scored first class and above. Of these, 95% of students have scored a distinction and above.
"Being a part of DJHS has been a learning process for both me and my child. The infrastructure and facilities make learning an interesting experience for children. Teachers at DJHSM have motivated the children to believe in themselves," said Anjali Thakur, the proud mother of Aditya Narayandas Rajput who achieved 96% in the ICSE examinations.
The parents of another student, Ishan Mardani, said "Ishan`s hard work and dedication, combined with the consistent support from the school and teachers has been wonderful. The teachers at DJHS were always available, whenever Ishan needed them due to which he never need any tuitions. We as his parents are very happy and proud."
The teachers at DJSHM are proud of all the students` achievements and wish them a bright future ahead. "I always knew this batch was special," said the Principal, Ms Nutan.
What's new
Walkathon 2020 - Wake Up, Walk Up!
15 January 2020 | SUCCESS STORY
"Climate change is a major threat to much of the developing world, and it needs to be looked at with great care" - His Highness, The Aga Khan IV, July 2017.
[ Read ]
---
Outreach Programmes by Aga Khan Education Service, India (AKESI)
20 December 2019 | SUCCESS STORY
"Little children learn through play". That's the message the Aga Khan Education Service India (AKESI) was promoting in the workshop it held for teachers from pre-schools across Mumbai.
[ Read ]
---
AKESI - Striving for excellence
01 December 2019 | SUCCESS STORY
His Highness, the Aga Khan IV, has said that a great school, "will educate its students, not merely to be personally successful, but also to use their gifts to build their communities and enhance the common good to levels beyond our dreams".
[ Read ]
---