Afghan mothers study alongside their young children to improve their literacy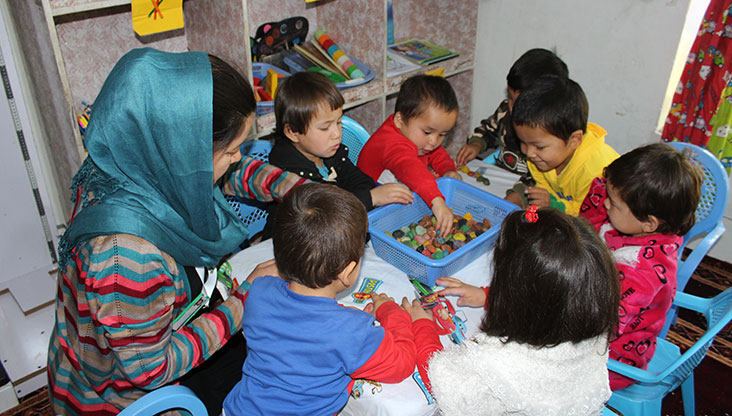 Aga Khan Education Service (AKES), Afghanistan runs 73 early childhood development (ECD) centres serving children and their families in Badakhshan, Baghlan, Balkh, Kabul, Kunduz and Samangan. Many of the centres are located in rural and remote villages. One such area is the village of Tergown, in the Mai-Mai district of Badakhshan, where most of the population work in agriculture and livestock rearing.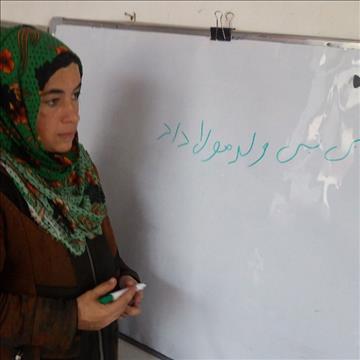 Until 2014, Tergown only had a small government-run primary school which served a small number of students. In 2014, a larger government-run primary school opened to serve more students. That same year, to help improve education provision in the village, AKES established an ECD centre and library in Tergown which offered a holistic early years programme for children and a Parental Education Programme (PEP) for their mothers. An integral part of the ECD programme, PEP provides support for women who were unable to receive an academic education, instead taking on the traditional duties of women in their villages, such as homemaking and manual labour. The PEP focuses on the health, development, literacy and overall education of young learners and their parents.
In 2019, Bibi Sairam was one of these mothers. Like many parents of AKES' ECD students in Tergown, she was happy that her young daughter was receiving an education but wished to become educated herself. She decided to participate in the PEP sessions that are delivered in Persian. Today, she is proud that she is semi-literate and is able to read and write at a basic level. She says joining the PEP sessions was one of the best decisions she ever made.
"I began to attend the PEP sessions in 2019 because of the ECD teachers' motivation," said Bibi, age 28. "Before we attended these sessions, we did not know much about women's and men's rights, and we used to push our daughters to do domestic work. Now, my daughter and I are semi-literate, and I can read simple books and support my children with their homework."
Bibi is one of 49 mothers of AKES' ECD students in Tergown who attended the weekly PEP sessions during 2019 and 2020. Of these 49 participants, approximately 30 are now semi-literate and can also solve basic math problems.
"Tergown is a small village in our region, and the rate of literate women is too low…I feel proud to be supporting my children with their lessons and helping other women in our village," said Bibi.
Mahbooba Tahiry, an ECD teacher, reflected on the overall experience. "At the beginning of the weekly sessions, mothers do not know how to hold a pen in their hands or how to use it," she said. "But we work separately with each mother to enhance their knowledge and teach them the fundamentals of language and mathematics. After completing these classes, parents can better support their children and contribute to their homework."
According to an informal assessment by AKES, A, at least 10% of the parents of AKES's ECD students in Tergown can now read and write as a result of the PEP sessions.
"ECD and AKES, Afghanistan means everything to our family because our lifestyle has drastically changed since we began these classes," concluded Bibi. "I sincerely thank the ECD teachers who have been helping me in this journey."
Photos (top to bottom):
-
In small rural villages in Afghanistan where literacy rates for women are particularly low, AKES' Parental Education Programme enables mothers to improve their literacy and support their children's learning (photo taken prior to Covid-19)
-
Bibi Sairam, pictured at an AKES Learning Centre in Tergown, a remote village in Badakhshan, is now semi-literate and able to read and write at a basic level.