Never Too Early to Go Green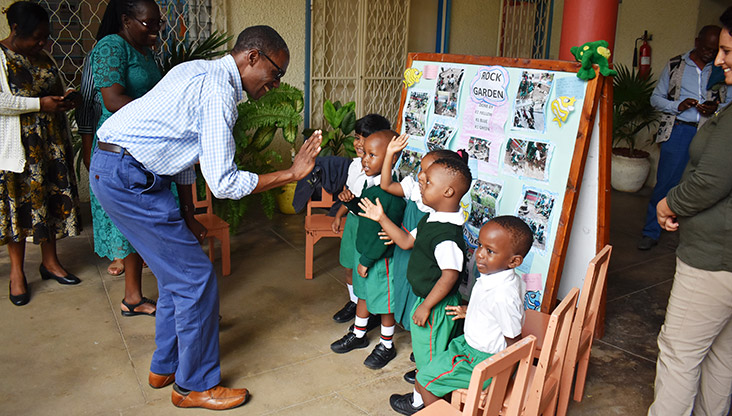 On a sweltering Monday morning at The Aga Khan Bamburi beach center, scores of 6-year-olds in school uniforms are doing something that would make many adults think twice.
They're stooping to pick garbage off the beach, and sorting it according to what they can and can't recycle.
It's World Innovation Day, and students at the Aga Khan Nursery School, Mombasa are marking it by doing what's arguably the most important project of their generation: Going Green.
These children know that cleaning the beach is only the start. They've been thinking about creative ways to make garbage useful so that it doesn't end up in a landfill. While the K2s have put together a board game using bottle tops, the K3s have constructed a water fountain out of used bottles. The students are so excited about their creations, that they've planned to continue recycling through the year.
The K1s have explored the school premises and created a rock garden, aquarium and a forest full of animals made of toilet rolls. And the playgroups aren't left out either. They make dolls and brushes using toilet rolls, old magazines, sticks and sisal ropes. With support and guidance from the teachers, each child is able to work with their peers to pursue their ideas.
At the end, the students presented their creations, and were visibly excited. "This activity instilled a sense of responsibility towards our environment," said Maryam Shallo, the K3 class teacher. "The children were happy to take part and talk about their innovations."
Furthermore the students have also written stories and made them into books, for which they were given the tools and freedom to be as creative as they liked. The products are on display for parents, teachers and staff to admire and awards are distributed for the best books.
The day ends with a great speech from Apollo Gabazira, the regional CEO of the Aga Khan Education Service, Kenya. Also present, were the head of The Aga Khan High School, Mombasa, Mary Stella, head of The Aga Khan Primary School, Mombasa, Inviolater Muniafu, and head of The Aga Khan Nursery School, Mombasa, Rosmina Gokrani.