Q: Why study at an Aga Khan School?
A: The Aga Khan School strives for excellence through a continuous process of improvement that features regular review of teachers and programmes. At the same time, it works to create a harmonious balance between academic demands, sporting and cultural activities and community life.
Q: Is there an advantage to keeping my child in an Aga Khan School from Nursery to Secondary?
A: Yes. The transition will be smoother for children, who will not be required to take new entrance tests, and for parents, who will benefit from a smooth transition that is administered internally. In addition, there will not be any new entrance fees.
Q: How well qualified are your teachers?
A: Teachers at the High School are mainly Makerere graduates. Each teacher is recruited on the basis of his or her teaching ability, attitude, drive and educational outlook. Some overseas staff are recruited to support the School's multi-cultural ethic. All staff receive continuing professional training to develop their potential and keep abreast of developments in the field.
Q: Will it be difficult for my child to adjust in another Aga Khan School?
A: In general, Aga Khan schools everywhere follow the same educational principles and philosophy. A child who transfers should feel at home and will receive a warm welcome.
Q: What does Aga Khan Education Service, Uganda (AKES,U) do?
A: The Ugandan Schools are managed by AKES, U, which is part of the Aga Khan Education Services (AKES). AKES currently operates more than 200 schools and several educational programmes that provide quality pre-school, primary, secondary and higher secondary education services to more than 75,000 students in Pakistan, India, Bangladesh, Kenya, Uganda, Tanzania, Kyrgyz Republic, Tajikistan, United Arab Emirates and Madagascar. Schools will also be developed in Afghanistan and the Democratic Republic of Congo.
AKES is an agency of the Aga Khan Development Network (AKDN), a group of development agencies working in health, education, culture and rural and economic development, primarily in Asia and Africa. These agencies include the Aga Khan Foundation (AKF), Aga Khan Education Service (AKES), Aga Khan Fund for Economic Development (AKFED), Aga Khan Agency fro Microfinance, Aga Khan Health Services (AKHS), Aga Khan Planning and Building Services (AKPBS), Aga Khan Trust for Culture (AKTC), Aga Khan University (AKU) and the University of Central Asia (UCA).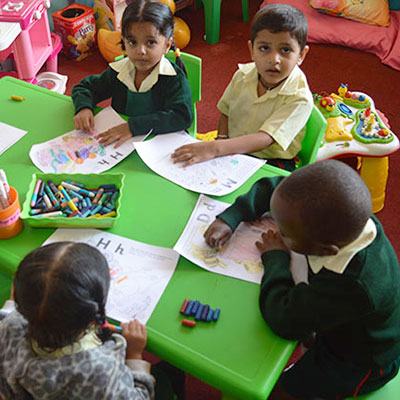 Q: Who is the Aga Khan?
A: The Aga Khan is the 49th hereditary Imam (spiritual leader) of the Ismaili Muslims and a direct descendant of the Prophet Muhammad (peace be upon him). A Harvard graduate in Islamic history, the Aga Khan succeeded his grandfather as Imam of the Ismailis in 1957. He has established and leads a number of private, international, non-denominational development agencies, collectively known as the Aga Khan Development Network.
The Network's agencies seek to empower communities and individuals, often in disadvantaged circumstances, to improve living conditions and opportunities. Active in over 20 countries, the Network's underlying impulse is the ethic of compassion for the vulnerable in society. Its agencies and institutions work for the common good of all citizens, regardless of origin, gender or religion. [ Find out more ]
Q: Is there any preference given to Ismaili children?
A: No. In fact the School is non-denominational and accepts children from all faiths.
Q: What if my child falls ill during school hours?
A: A registered full-time nurse provides first aid treatment, conducts health classes and maintains students' health records.
Q: Do you provide textbooks?
A: The School provides all books and stationery.