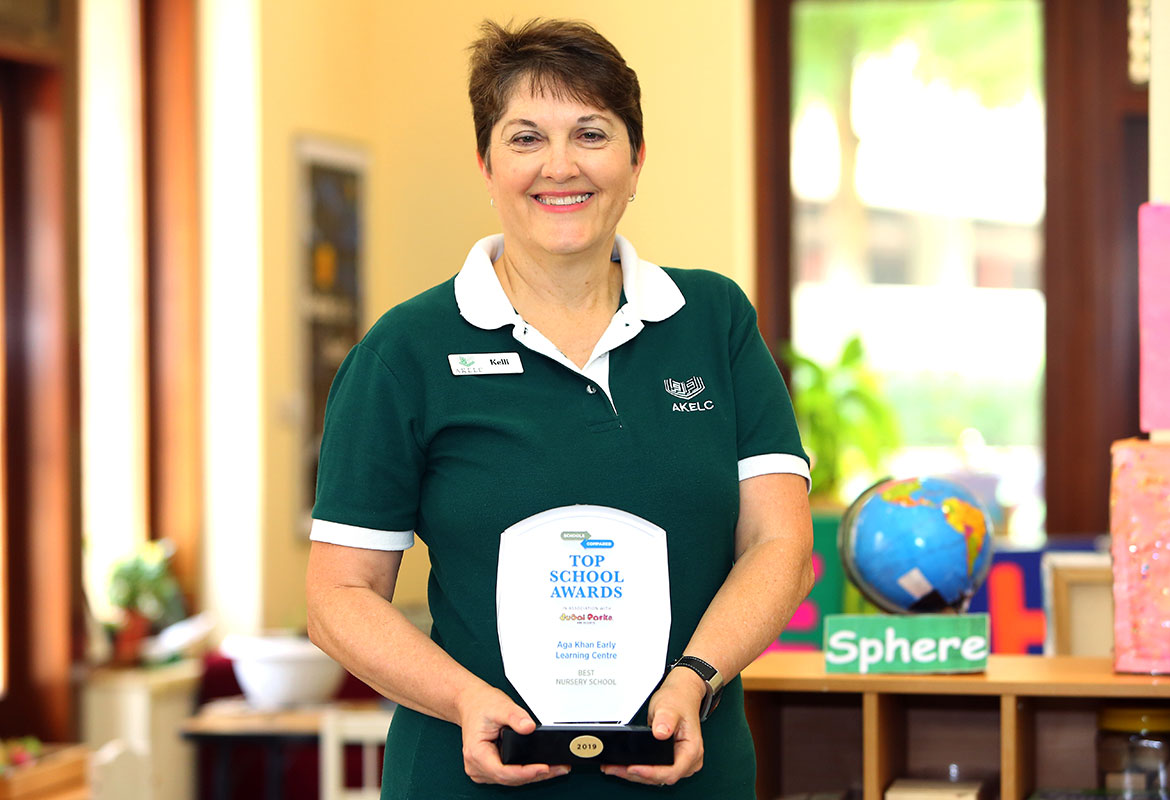 Welcome to the AKELC Nursery and Preschool!
It is my pleasure to welcome you to the Aga Khan Early Learning Centre (AKELC) and the Resource Centre (AKELRC) in Dubai.
As Head of Nursery and Preschool at the AKELC, I recognize that you have a wide range of choices for early childhood care and education in Dubai. By selecting AKELC you are investing wisely in your child's future, as we know from years of global research that children who attend high quality early childhood programmes will grow up to be confident and productive citizens.
In 2015 AKELC was awarded the U.A.E Jawda Quality Assurance Program with a 5 star exemplary rating in six critical areas of programme quality, including staff-child interaction, partnerships with parents and the community, learning facilities and health and safety policies. We're very proud to have achieved this high standard of quality.
In 2016 AKELC was awarded a Level 3 Exemplary (highest level) international accreditation with the UK National Day Nurseries Association (NDNA). We have the distinction of being the only Nursery outside the UK with this high level. Our teachers and staff are committed to maintaining this high level of international recognition in the services and programmes that we provide for children and families in Dubai.
In 2017 AKELC was awarded Edarabia's Parent Choice Award. In addition, AKELC was named NDNA Nursery of the Year - International – "Runner up and Highly Commended". One of our past Lead Teachers, Fazilat Notta, was named "Practitioner of the Year - runner up".
In 2018 AKELC was awarded the NDNA Nursery of the Year – International and Leading Nursery Finalist by Fatima Bin Mubarak Award for Motherhood & Childhood.
In 2019 Top Schools Awards has awarded AKELC as the Best Nursery in the UAE. We thank AKELC parents for their encouragement and adding such supportive and positive comments for this award.
We work closely with parents to help them better understand how important the early years are in terms of brain development and the link to effective language skills, and bilingual proficiency. These are skills that are clearly linked to later academic success and because of this evidence the AKELC offers bilingual English/Arabic preschool programmes even to our youngest learners.
If you've not had an opportunity to visit our spacious, purpose-built classrooms please stop by the centre for a tour of the 'Best Nursery' at any time. We are happy to talk with you about your child and their unique needs. AKELC is inclusive and welcomes all children ages 12 months to 4 years.
The AKELC enrolment continues to climb and we've recently added an Early Childhood Resource Centre that provides professional development for our Aga Khan nurseries and preschools across the Aga Khan Education Services network.
I look forward to meeting you and your family,
Warm regards,
Ms. Kelli Allen
Head of Nursery and Preschool