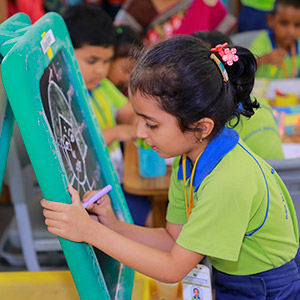 The Shishu Pahel Paddhati© at the Early Childhood Care and Education (ECCE) level, is a well-researched methodology developed by AKES,I. Based on the High-Scope international curriculum, it has been adapted to local needs.
About Us
Aga Khan Schools aspire to deliver an inclusive, academically rigorous and well-rounded curriculum that honours the context in which students live and their place as global citizens.
Graduates from Aga Khan Schools are equipped with the knowledge they need to thrive throughout their adult lives, skills to be successful in an ever-changing world, and attitudes and values to conduct themselves respectfully and embrace diversity in all its forms. Aga Khan Schools endeavour to teach students to make ethical choices and embrace the strength of pluralism and service. Aga Khan Schools are committed to diligent scholarship and stewardship.
The Platinum Jubilee High School, Warangal (PJHSW), under the flagship of Aga Khan Education Service, India (AKESI), was established in 1953. It invests in and optimally utilises its infrastructure and resources, while working with a team of dedicated teachers and collaborating with the community. The school aims to provide quality education and offers classes from Nursery to Grade 10.
PJHSW follows the Telangana State Curriculum and offers quality education and a wide range of educational experience to enable over 1,300 students to become thought leaders in our progressive world. PJHSW strongly believes in nurturing talent and the all-round development of students using innovative pedagogy.
PJHSW has a 100% pass rate for the Grade 10 board exams and has been awarded two prestigious awards in recognition of its quality education. The school was ranked the number one Co-Ed School in the Warangal district by the Education World Survey in 2019 and selected as the Atal Tinkering Laboratory (ATL) School of the Month five times within 10 months of launching the ATL during the 2019-20 academic year. In 2020, PJHSW's Principal, Mr Jagdish Peche, was given a certificate for his efforts as an Invigilator by Vidyarthi Vigyan Manthan, an autonomous organisation under the department of Science and Technology, the Government of India and the National Council of Education Research and Training (NCERT).
PJSHW has established the ATL to teach students the 21st century skills required for science, innovation and creativity and aims to develop students to be productive members of their communities and build a better tomorrow.