"Nothing excites me more than a challenge"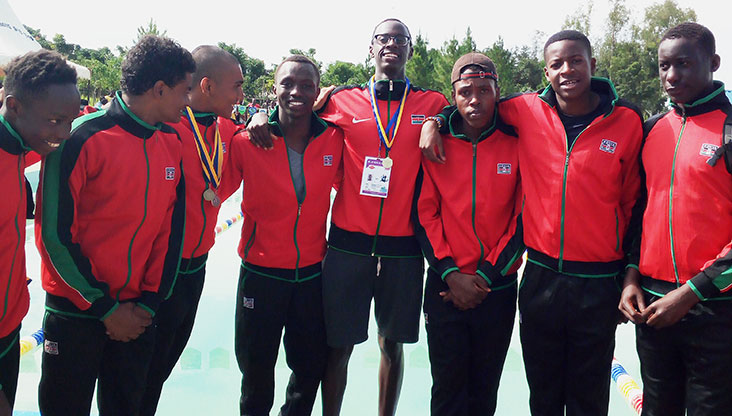 Overcoming obstacles is what motivates Ndonga to the impossible.
If Emmanuel Ndonga took to the water like fish, he might never have been a competitive swimmer.
"At a young age, I hated swimming with a passion to the extent of screaming and wailing as soon as I entered the pool," says Emmanuel, who won the Most Outstanding Player of the Year Award competing with schools across East Africa in the Safaricom Sports Personality of the Year Award (SOYA) 2017.
Emmanuel realized that when he was in the water, he was outside his comfort zone. He learned to overcome that discomfort, and it was the feeling of overcoming that he loved more than anything else. "I love challenges," says Emmanuel. "Nothing excites me more than a challenge and the feeling of overcoming it."
The drive to conquer challenges is what inspired Emmanuel to continue training professionally through his International Baccalaureate (IB) diploma, which only a few swimmers around the world have managed to do. "I've always looked up to my brother Samuel Ndonga who did the IB while continuing to swim competitively, this struck a belief within me that I could do the same." Many people told him it was impossible, and that he should drop one or the other.
Each day, while his cohorts are catching up on sleep, Emmanuel trains in the gym or the swimming pool from 4am to 5.45am. When academic life got tough, Emmanuel struggled to balance both worlds. His mantra, he says, is "don't use swimming as an excuse for school, and never use school as an excuse for swimming."
"I cannot count the number of days the sentence 'take a break' has crossed my mind," says Emmanuel. "However, I continued because I wanted to prove to thousands of students in Kenya that they can lead the life of their dreams regardless of their current situation." With this in mind, Emmanuel performed better than ever with the goals of inspiring thousands or even millions of kids with his journey.
The inspiration worked. In 2015, Emmanuel set a 200m individual medley record of 2:36.31. In August last year, Emmanuel qualified to represent Kenya in the East African Secondary Schools Games Championships, where he broke his previous record by over 12 seconds. He has now gone on to win the Most Outstanding Player of the Year Award at the SOYA Awards.
Emmanuel says he was humbled at the SOYA Awards to be in a room full of world record holders. The words of the Kenyan winner of five World Champion Gold Medals, Paul Tergat, still ring in his head: "There is nothing noble in being superior to your fellow man; true nobility is being superior to your former self."
Emmanuel sees himself competing in the 2018 World Championships in China and representing Kenya in the 2020 and 2024 Olympic Games. He dreams to achieve an international medal for Kenya in swimming, joining Jason Danford as the only other Kenyan to have done so with a gold medal in the 2010 Commonwealth Games.
Above all, Emmanuel hopes his career will inspire thousands of other children around the world to challenge themselves both academically and athletically. Congratulations Emmanuel!