Aga Khan High School, Nairobi (AKHS, N) Student Shines at the Kenya Music Festival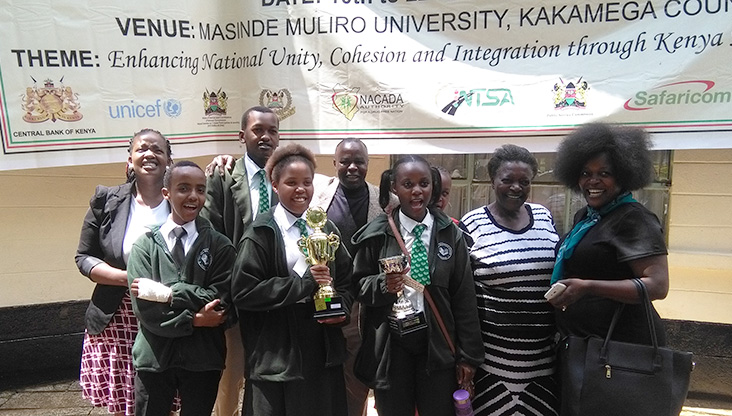 AKHS, N students were crowned national champions at the recent 91st Annual Kenya Music Festival, held in Kakamega County, Kenya from July 10 - 22, 2017.
The Festival, organized by the Kenya Ministry of Education, provides an opportunity for gifted students to develop and showcase their talents, and is a forum for interaction, learning, practice and the appreciation of culture and that of other communities. This is an effort to foster national unity, the Kenyan identity and global recognition among other objectives. More than 70 schools, colleges and universities participated from across Kenya in this year's festival.
Nairobi county was declared as the best team this year, with strong talent from Lisa Tracy Lyanga, a student of Aga Khan High School Nairobi, who won 1st position in three voice categories: Soprano, Alto and Operatic. Since receiving her award-winning performance, Lisa has been offered her a place Kabarak University and Kenyatta University, Lisa has been featured in local media, and was invited to a fete for outstanding performers which was attended by the First Lady of Kenya. Additionally, she has been invited to join the Nairobi Girls Chorale, and will have the opportunity to go on a fully sponsored trip to the United States of America to perform with them.
Established in 1961, the Aga Khan High School, Nairobi is a private co-educational, multicultural day secondary school. It believes very strongly that it is an institution that encourages inquisitiveness, rational inspiration, fun, and challenging demands, it also allows a holistic development of a character that will allow success beyond the classroom.