Diamond Jubilee High School, Hyderabad outshines in the Diamond Jubilee Year - A Perfect 10 on 10 GPA Result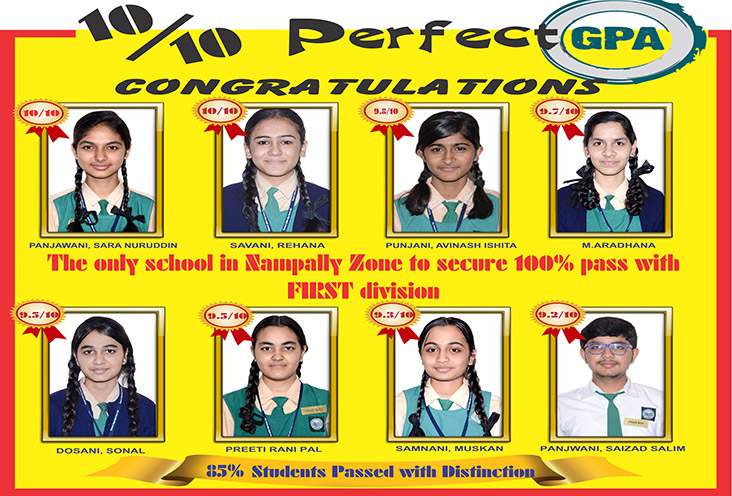 Aga Khan Education Services, India (AKES,I) which runs the Diamond Jubilee High School, Hyderabad (DJHS,H), had a fantastic 2016-2017 Academic Year.
DJHSH is the only school out of more than 80, in Nampally area, to have 100% of its students pass class X with First Class. 85% of the school students have passed with distinction, adding another feather in the cap for DJHSH. The students and the teachers are overjoyed as their hard work culminated in this glory to the school.
Adding to the excitement, are the crown jewels Ms. Sara Nuruddin Panjwani and Ms. Rehana Savani who scored a perfect CGPA score of 10 on 10 a first at DJHS,H. The parents of Ms Rehana Savani said "This is an awesome moment for us, we are still to believe the fact that our daughter secured 10/10 CGPA in SSC board result this year. This is an excellent school with multiple academic and co-curricular activities fostered regularly, which helped my daughter to excel not only in academics but also in other areas. Thanks to the Principal and her team for giving us this life time memory from DJHS,H to our family."
Another topper Ms. Moina's parents said "We are extremely happy that our daughter has got a wonderful score. Thanks to the thorough planning and individual attention paid to every student by the school, brought happiness to us. No doubt it is the best school with a holistic approach, clear planning and execution of all activities. We are very delighted and appreciate the school's sincere effort in getting this achievement." The school Principal Dr. Sujata Ghade, received a congratulatory call from the District Education Officer (D.E.O) for the exemplary results of the school in Nampally zone.
The girls outshined the boys, from the 15 students who scored more than 9.0 CGPA, 10 are girls. Not to be left behind, Master Saizad Salim Panjawani from the Aga Khan Hostel, Hyderabad (AKH,H) studying in DJHS,H also scored a CGPA of 9.2, adding his name to the list of hostel scholars.