Schools support communities in Pakistan during severe flooding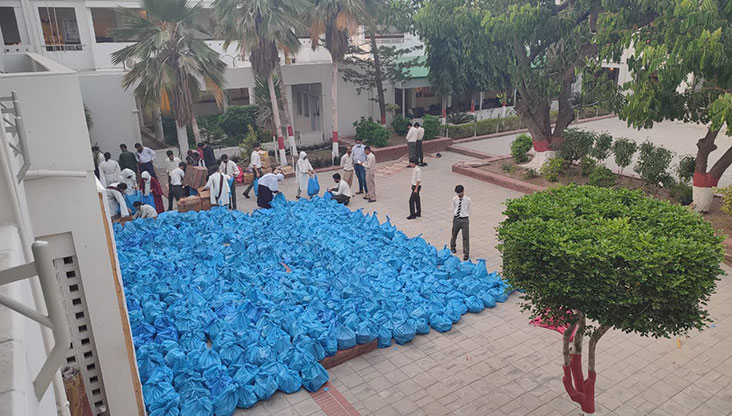 Devastating floods have impacted many communities across Pakistan, leaving many displaced and without essential items, such as food or water.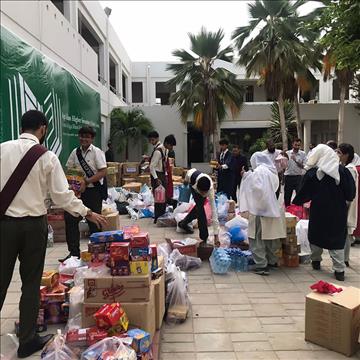 Schools across the Aga Khan Education Service (AKES), Pakistan – the Aga Khan School, Garden, the Aga Khan School, Kharadhar, Sultan Mahomed Shah Aga Khan School, Karachi and the Aga Khan Higher Secondary School, Karachi – joined hands to collect food and other items for people affected by the severe floods from 2-7 September.
Primary and secondary students, parents, teachers and staff from the schools donated non-perishable food items, including milk, dates, roasted gram, peanuts, flour and water, while also working tirelessly to make individual ration packs for families in need. In total, 1,200 ration packs were made and sent to the Aga Khan Higher Secondary School, Hyderabad where the packs were distributed to individuals affected by the floods.
AKES, Pakistan strives to support those impacted by the floods through this initiative and more. We are grateful to our parents, students and staff for their generosity and contributions to making the relief drive a success.
Ration packs made by the schools gathered together, ready to be loaded and delivered

Students sorting through the donated items

Students loading the ration packs to be delivered to the Aga Khan Higher Secondary School, Hyderabad